Holographic devices for innovative

presentations in 3D
Projection with the use of holographic technology is one of the latest and most interesting forms of presentation. They are not only interesting but also effective at engaging their audience.
Our offer includes 3 types of holographic devices, providing fantastic performance during business events (conferences, trade fairs, presentations, meetings), as well as less formal entertainment events.
What types of holographic devices

do we offer?
Holographic pyramid
This is one of the few devices allowing such perfect rendering of a holographic effect.
It is available in several variants:
"Normal" holographic pyramid as the best value for money. These holograms are very popular and are successfully implemented by large television networks (TVP1 / TVN) and the largest clients from FMCG sector. The side of the pyramid's base is 50 cm.
Holographic pyramid XL is the largest pyramid hologram in our offer. The dimensions of the base are 100 x 70 cm, and are especially ideal for presenting an animation to a larger group of viewers.
360 holographic pyramid, in turn, is the latest version of 3D hologram. Thanks to its extendable functionality, it allows easy presentation of animation on all 4 sides of the pyramid. Each animation can be independent which means that a given 3D object can be viewed simultaneously from 4 sides.
In all three models of the devices, there is a possibility of placing a physical object with which the animations will interact.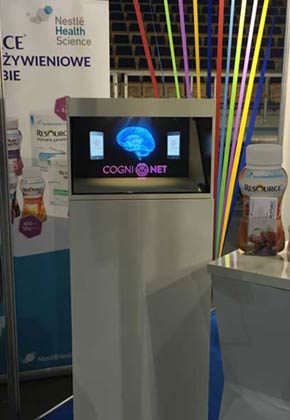 Holo Cube
The latest device providing exceptional holographic capabilities. All thanks to a completely new technology (both in terms of 3D projection itself and the surface on which it is displayed). For the purpose of this device, a custom-made holographic animation is displayed on one (frontal) pane of the device.
Animations displayed on it have the high resolution of 1920 x 1080. It dimensions (550 x 370 x 500mm), in turn, provide plenty of space and operating freedom when it comes to the size of animation and real objects that can be placed inside the device.
The displayed animation can be controlled via tablet or smartphone and the content can be replaced remotely through WiFi.
HoloBox XL
Referred to by many as a time machine which gives the option to "transport" the viewers in time and space.
This is the largest mobile holographic device in our offer and allows implementation of projecting holographic objects up to 180 cm tall. Because of that we can display a hologram of a human body in 1:1 scale and the resolution of the holographic image is… 4K.
Holobox XL is a mobile device and is relatively easy to install and remove. It is not necessary to darken the area where it is being used because the displayed animation is clearly visible even in bright / well-lit places.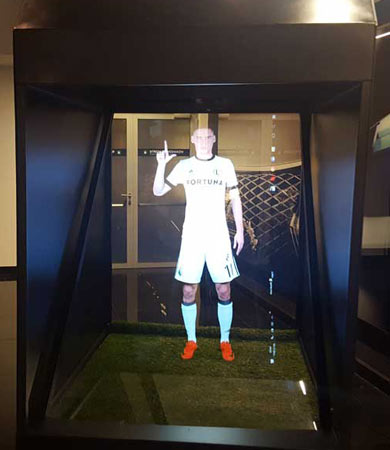 See why you should choose our holograms
Broad selection
We provide an extensive range of holographic devices. These systems come in many variants in terms of prices and configuration. Every client will find exactly the solution they need.
Innovation
We supply only the latest equipment, which turn any event into a unique and unforgettable experience.
Great fit
Our services do not end with just the delivery and placement of the equipment. We also create content (animation, films), for all types of media in our offer. We advise and help you deliver not just an adequate effect, but a complete delight to the viewers and clients.
Our holographic devices

in action:
Our holographic devices

on pictures:
Is that all?
We also create professional holographic animations for use in holographic pyramids as well as for other types of 3D media.
Interested in ordering?
Call us:
ul. Gościnna 7,
05-082 Blizne Łaszczyńskiego – Warsaw
(around Bemowo, route S8 and Lazurowa street)
office hours (Mon.-Fri.) 9:00 am – 5:00 pm
Christopher Dembinski


See more of our

technological solutions: